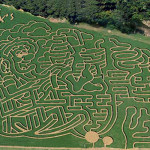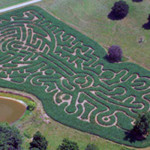 North Georgia Corn Maze is Georgia's best  corn maze. f 160,000 individuals have became lost and had fun at the same time.  The North Georgia Corn Maze has 7  great sections of land of brain teasing flattened crops that will turn your brain inside and out.The  maze will entertain and tease you as you happen across different paths and wonder which way to go.  Everyone finds Victory, so don't worry, there is plenty of help stationed along the way if you get turned around. Rest assured, we've never lost anyone yet!
After you "Get Lost" in the Corn Maze, test your abilities on our Hay Bale bounce, and your children will have a ton of fun in our Kids Corner. You can also unwind and relax on a 20 moment Hay Ride enjoying the  absolute most delightful beautiful country in Georgia. In the event that you are around after disk, get ready for "Film Under The Stars" on our beautiful open air screen.
Runs from Sept 16 to November 16th. Come have some fun.