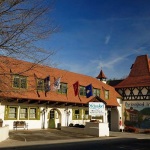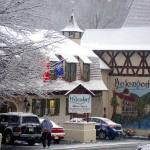 The Helendorf Inn has a true Alpine feel because it  is surrounded by National Forest and State Parks, so outdoor adventurers have many activities to enjoy at this beautiful place. Activities you can enjoy during your stay include: Wine Tasting,  Zip-lining, Putt-Putt, Golf, River rafting, horseback riding, canoeing, fishing, mountain biking, hiking, camping, hunting and waterfall-watching.
You can chose from Luxury suites, junior suites. riverfront balcony or patio rooms. They also have the top Tower suite that has it all. There is a room just for you at the Helendorf.
And, the Helendorf Inn is located right next to the Festhalle, where Helen celebrates Oktoberfest, Bavarian Nights of Summer, 4th of July activities, Volksmarch, the Hogpen Hill Climb Foot race and the legendary Hot Air Balloon Race.
You'll feel loved and be able to relax at this classic Bavarian accommodation, and enjoy the views of the beautiful Chattahoochee River  from private balconies that will take your breath away. So come experience Helen at the Helendorf.
Here are ""reviews from Trip Advisor, Yelp and Google to tell you more about what to expect. You can also comment below about your experiences
[vc_blockquote type="type1″]
"Clean room great service nice enclosed pool great place for the money." From Google
[/vc_blockquote]
The Helendorf Inn
33 Munich Strasse
Helen, Georgia 3054
(706) 878-2271