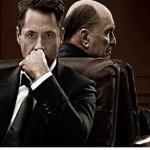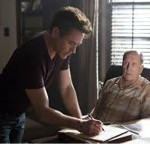 The Judge
Ladies and Gentlemen of the jury, The Judge is a fine example of a movie that features a likeable cast and it's solidly made throughout, but it ultimately falls short of its more loftier ambitions.
It stars Robert Downey Jr. as Hank Palmer, a successful lawyer living in Chicago who gets news of his mother's death. This forces Hank to return to his home of Carlinville, Indiana to attend the funeral. While he's there, he's reunited with his estranged father, Judge Joseph Palmer (Robert Duvall).
Things go from bad to worse when Joseph is accused of murder and it's up to his hotshot attorney son to help establish his innocence. The only thing standing in the way of clearing the good judge's name is each other.
Billy Bob Thornton costars in a very good performance as the prosecuting attorney who wants to put Duvall away for life. Between this role and Tyler Perry's in Gone Girl, it's looking like a comeback year for law in film.
Objection! In the middle of defending his father, Downey is also revisited by his old flame (Vera Farmiga). She's interested in rekindling the passion that was their long lost love.
These performances and this production deserve a better movie. All the principle actors handle their roles with skill and competency, but it also fails a creating a consistent tone. It has several unexpectedly funny moments, but then they're broken up by the somberness of the case and repetitive clichés about how Duvall and Downey never bonded as father and son.
I did like a scene early in the film where Downey is confronting a group of rednecks in a bar by automatically determining what crimes they committed in the past just by looking at their scars and demeanors on their faces. I wonder how well he would've done during O.J. Simpson's trial.
The Judge is a film that has honorable intentions, but its tone doesn't work enough to carry it through and make us care about it like we should. I hereby sentence the audience intended for this film to go give Gone Girl a second viewing.
Grade: B-
(Rated R for language including sexual references.)
Until next time, White County, this is Justin Hall saying I'll see you AT THE MOVIES!
Movie Review The Judge