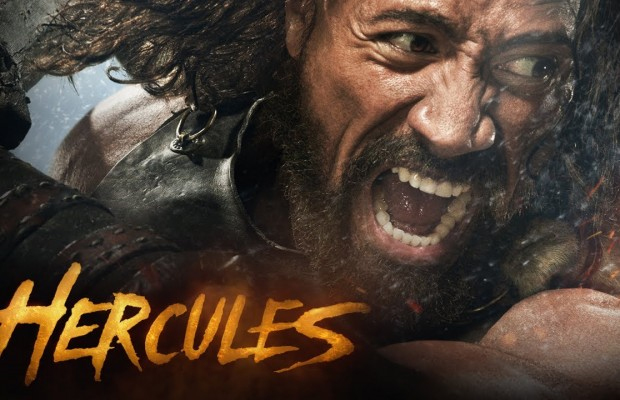 JUSTIN HALL AT THE MOVIES
Hercules is the second attempt this year to make another incarnation of the Greek warrior after The Legend of Hercules. For me, Hercules is like a lot of other characters in literature and mythology such as Dracula or Robin Hood that has been subjected to various cinematic interpretations. Everyone from Disney to Schwarzenegger has taken a stab at it. This latest effort mostly works due its commitment to goofiness being its biggest charm.
Dwayne "The Rock" Johnson is perfectly cast as the hulking half-man, half-god and this story tells of his life and journey after he performed his legendary 12 labors. He's now hired as a mercenary and his services are called on by a king (John Hurt) to train his army and go into battle against an evil warlord. What the movie may lack in depth or realism, it makes up for with some impressive set pieces including an ambush sequence with some ferocious barbarians.
Some of the scenes look like they were stolen right out of Schwarzenegger's own Conan series. Director Brett Ratner (The Rush Hour trilogy, Red Dragon) as well as Johnson himself has a sense of tongue-in-cheek throughout. Johnson knows for a fact that he's winking at the camera during some scenes and he finds a good balance between being the action hero and also not taking himself too seriously. There's something borderline campy and cheesy about this Hercules. The movie makes no apologies for that. The dialogue knows it's silly.
The conclusion is predictable and the action sequences are standard CGI stretched out to infinity and beyond. Not to mention we get the likes of Joseph Fiennes and Ian McShane adding energy and humor where necessary. Having said that, I am recommending this movie on the basis of its campy spirit and Johnson always keeps the movie on its toes. I think it works in the tradition of dumb, fun summer movies. It does what it's made to do: Be entertaining in the moment and not much else.
Grade: B (Rated PG-13 for epic battle sequences, violence, suggestive comments, brief strong language, and partial nudity.) Until next time, White County, this is Justin Hall saying I'll see you AT THE MOVIES!