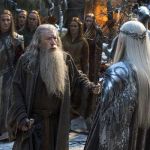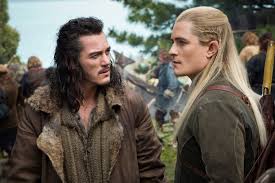 Movie Review The Hobbit: The Battle of the Five Armies
The first Hobbit was mediocre. The second was a slight improvement. However, Peter Jackson has finally wrapped up his Hobbit trilogy in a grand, thrilling, rousing, spectacular fashion that will satisfy fans and pays more than a wink at the Lord of the Rings Trilogy.
It all begins with the deadly dragon Smaug, terrorizing the village known as Lake-Town while Bilbo (Martin Freeman) and the rest of his dwarf companions do everything they can to save themselves and the town.
Following an intense battle sequence, Bilbo and co. are once again reunited with the wizard Gandalf (Ian McKellen) and together they join to save the kingdom Erebor from invading forces. This also brings back Legolas the Elf (Orlando Bloom) and his sidekick, Tauriel (Evangeline Lilly). We also get some LoTR alumni taking place in the battle including Hugo Weaving, Christopher Lee, and Cate Blanchett.
As someone who was completely puzzled as to why Jackson made the conscious decision to stretch a simple story into three parts, I still wasn't sure of the names of all the characters and because of some of the silliness of the previous two films, it still had no real emotional resonance. However, by the time of the third film, it lets the spectacle do the talking and the screen vibrates with breathtaking imagery.
The Hobbit series won't go down in history as comparable to its predecessors, but it does send off its characters in an epic and satisfying conclusion. Peter Jackson has pretty much conquered all of Middle-Earth on screen. Now, let's hope he can find another world for his fantastical visions.
Grade: B+
(Rated PG-13 for extended sequences of intense fantasy action violence, and frightening images.)
Until next time, White County, this is Justin Hall saying I'll see you AT THE MOVIES!