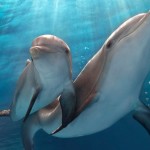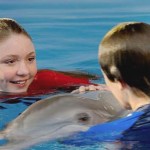 The original Dolphin Tale was a surprise hit with both critics and audiences, but somehow I'm not sure how it was enough to justify a sequel. Nevertheless, here it is and while it suffers from repeat syndrome, it manages to charm its way through.
Morgan Freeman, Ashley Judd, and Harry Connick Jr. are back again helping rescue another dolphin and make it another exhibit at the Clearwater Marine Aquarium right alongside the beloved dolphin Winter with the prosthetic tale. This new one is called Hope and she's exactly what the characters are looking for in order to snap Winter out of depression due to losing one too many dolphins to death.
Like Sin City 2, Dolphin Tale 2 is much more interested in revisiting what made the first movie so great rather than adding anything new. However, it does offer some beautiful underwater cinematography sequences and most of the time, it never feels cheesy or phony, despite some use of CGI.
Freeman, Judd, Connick, and the rest of the actors are actually given material in which they can do something with their characters instead of just standing around while having their intelligence insulted. I can say the same for this series. It's sentimentalized without being sensationalized. (The movie is once again "inspired by true events"). It's also clever and entertaining without becoming silly, ludicrous, or having to rely on ridiculous plot developments to carry it through.
The movie is mostly mild, safe, and predictable and will probably be considered a missed opportunity except for those who loved the first one. Nevertheless, it does hit the sweet spot just right.
Grade: B
(Rated PG for mild thematic elements.)
Until next time, White County, this is Justin Hall saying I'll see you AT THE MOVIES!