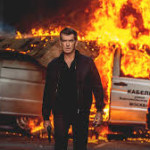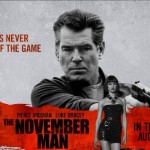 JUSTIN HALL AT THE MOVIES
Movie review The November Man
The November Man
The November Man stars Pierce Brosnan returning to his spy thriller roots, though not exactly having the type of charisma he brought to James Bond. Instead, we're treated to a competently made yet cliché-ridden film that will be a surprise if anybody remembers it in November.
Brosnan stars as Peter Devereaux, a retired CIA agent who's back in the field, assigned to protect a witness (former Bond girl Olga Kurylenko) out of the hands of a dangerous organization. Along the way, he also faces competition in the form of his ex-protégé, (Luke Bracey).
Like I mentioned before, the movie recycles just about every single cliché in the Movie Cliché's Book for Dummies: Brosnan loses someone he loves and swears revenge, certain individuals are not whom they claim to be, the witness uses seduction to take the terrorist, blah, blah, blah, etc., etc., etc.
You're not going to see a lot in The November Man that you haven't seen in a lot of other spy movies including Bond and the Bourne series. Plus, the routine of one retired spy duking it out with younger spies and defeating them in hand-to-hand combat can be seen coming from a mile away.
The November Man is made with style and skill, but the fact that the script is loaded with clichés is its undoing. The cast is effective and Brosnan still has the moves, but this is something that seems like it's recycled out of an episode of 24. Did I mention it'll be a surprise if anyone remembers this movie by November?
Grade: C+
(Rated R for strong violence including a sexual assault, language, sexuality/nudity and brief drug use.)
Until next time, White County, this is Justin Hall saying I'll see you AT THE MOVIES!