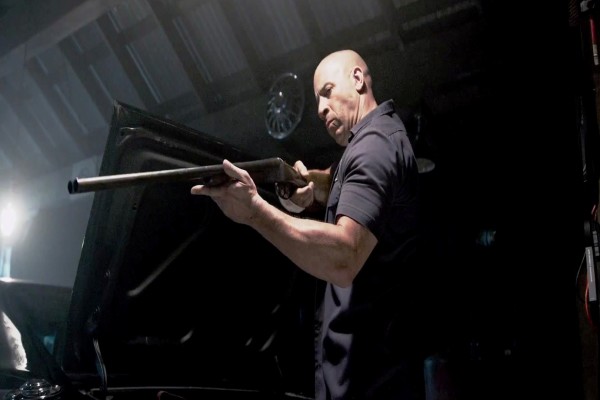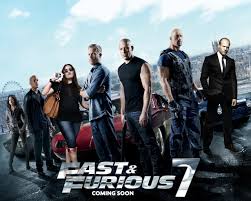 Movie  Review Furious 7
Furious 7 might've seemed like an arbitrary continuation of the franchise were it not for the unexpected death of Paul Walker back in November 2013. His death was right in the middle of production and it caused the filmmakers to put the film on hold until they could restructure the story. Nevertheless, this seventh entry provides us with perhaps the most insane and ridiculously over-the-top action ever in the series, humorous, cheesy dialogue, and a strong emphasis on family which is very much overt throughout the film.
It all begins with Vin Diesel's Dominic Toretto and Walker's Brian O'Conner reuniting to avenge the death of Han (Sung Kang) after he was killed by Deckard Shaw (Jason Statham). Deckard is the brother of Owen Shaw from Fast 6. This scene carries with a sense of tragic irony because Walker's character is in it.
It isn't long before the gang is brought back together: Dwayne Johnson's Agent Hobbs; Michelle Rodriguez's Letty; and Tyrese Gibson and Chris "Ludacris" Bridges once again providing the majority of comic relief. Together they go halfway across the world from London to Abu Dhabi to chase Shaw down.
In addition to Statham, Kurt Russell is also the new kid on the block as an agent who needs Dom and co. to retrieve a device called "God's Eye" which can pinpoint Shaw's exact location at all times. It's not like this device really advances the plot. The only point it serves is to put the characters into some of the overblown action. And, boy, does it come in spades…
The action sequences are always defying both gravity and logic including the crew capturing a witness while evading Shaw and his assailants and Diesel literally driving a sports car through all three of the Etihad Towers, and a climax that requires you to throw caution to the wind as far as the plot is concerned and do your best to keep up with the action. Not to mention a catfight ensues between Rodriguez and MMA fighter Ronda Rousey which is something reminiscent of Kill Bill.
For all of its exhilarating spectacle and ironic one-liners, Furious 7 does contain a great deal of heart amongst its characters and the closing scenes involving Walker's character are sure to bring tears to the rabid fans.
This is a highly sensational and satisfying conclusion to not only his character, but I'm also hoping it can be said for the franchise in general. I don't think the cast and filmmakers can or should ever top this one.  Grade: A  (Rated PG-13 for prolonged frenetic sequences of violence, action and mayhem, suggestive content, and brief strong language.)
Until next time, White County, this is Justin Hall saying I'll see you AT THE MOVIES!