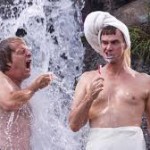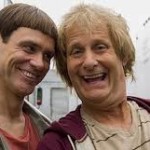 Movie Review Dumb and Dumber To
t's been 20 years since Jim Carrey and Jeff Daniels graced us as two of the most dim-witted and lovable idiots in the history of cinema. Their insane antics managed to charm their way into pop culture in a way few other comedies of the '90s ever did. They've both gone on to become bigger stars since 1994 and now they are back in the highly anticipated sequel and in my opinion, it's a sad case of too little, too late.
Carrey and Daniels return as Lloyd Christmas and Harry Dunne, this time around receiving a postcard from Harry's old flame, Frieda Felcher (Kathleen Turner) informing the latter that he has a daughter by her and the two are once again traveling across country to find her. Another subplot involves Lloyd finding himself falling for the daughter.
The movie gives us a trip straight down memory lane for those who were completely nostalgic about the first film: We get Billy the blind kid now an adult and having more birds than he knows what to do with and the Mutt Cutts vehicle makes a welcome return.
The problem with this sequel is that it doesn't attempt to add anything new. The filmmakers seem like they must've entered through the wormhole in Interstellar and never changed because the movie does nothing more than recycle old jokes and plot points from the original.
Now I am going to give Dumb and Dumber To its fair due and I have to admit that there are some laughs in it. I did laugh. However, some of those well-earned laughs are few and far between to find.
The first movie was a pleasant surprise and it had great timing when it came out in 1994. It was a new kind of comedy that wasn't seen on screen before and has been emulated too many times over. That's both a blessing and a curse, I guess.
Like I said, there are some funny moments and it's great to see both Carrey and Daniels back in the saddle, but basically Dumb and Dumber To sinks under the weight of too much repetition.
Grade: C
(Rated PG-13 for crude and sexual humor, partial nudity, language, and some drug references.)
Until next time, White County, this is Justin Hall saying I'll see you AT THE MOVIES!