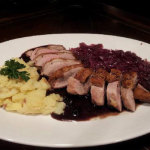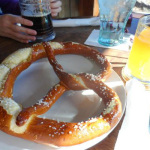 Hofbrauhaus Restaurant and GI Germany Pub in Helen serves great authentic German food. They have to set the bar high and they do because Helen is known for German food. The rustic feel of the restaurant helps one's mind believe they are in Germany and the food makes the heart feel it, too. German food is not easy to make right that is why most eat it out a restaurant.  Our Favorite is the pork schnitzel with spatzle it is not overcooked or breaded and very tender. A specialty they have is the Weiner Schnitzel with Spatzle Potato Pancakes with mushroom gravy which goes great with Beringer white Zinfandel and both are very delish. They have the best Schweinshaxen you can find anywhere. The duck is also a great choice if you have fowl in you. For dessert, the Black Forrest cake is great dessert choice as well as their famous apple strudel. You will experience will be truly German but be in Helen. Hofbrauhaus Restaurant and GI Germany Pub prides itself on making its customer leave feeling they have had the ambiance and atmosphere of a true German Restaurant. The beer and wine alone make it a great place to hang out by the river nearby and the feel inside you may dream you are in the Old town of Rothenburg ob der Tauber.
If has been awhile since you have had some good German food and beer come on out to Helen and support Hofbrauhaus Restaurant and GI Germany Pub and let us know what you think below.
Here are reviews from Urban Spoon, Trip Advisor,  and  Yelp  to tell you more about what to expect. You can also comment below about your experiences.
[vc_blockquote type="type3″ border_color="#8224e3″ border_size="10″ background_color="#dd9933″]
We visit Helen frequently, but had never eaten at the Hofbrauhaus. It is located as you leave town going north we seldom to the north end of town. But, we are glad we did this day! We sat at a picnic table by the stream and totally enjoyed a great meal with a glass or two of wine. The goulash was amazing and I loved the giant pretzel. My wife and I shared a Schnizel entrée and it was fantastic. We dine out often so we will definitely return. From Trip Advisor
[/vc_blockquote]