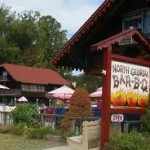 North Georgia Barb-Q is a traditional barbecue place. You can sit in the open mountain air and enjoy delicious food that is not easy to find. Juicy and flavorful meat that will have you leaving happy. Favorites include the pulled pork. Specialities included the Pig melt and the banana pudding that is out of this world. If you like to sit outside this is the place to go. You can also eat there right after a great tubing experience.
North Georgia Bar-B-Q Menu is fair simple and reasonable.
Here are the links for more information about North Georgia BBQ including Urban Spoon, Trip Advisor, Yelp  and Google. To tell you more about what to expect. You can also comment below about your experiences here as well.
North Georgia Barb-Q
663 Edelweiss Strasse,
Helen, GA 30545
Phone:(706) 878-5753