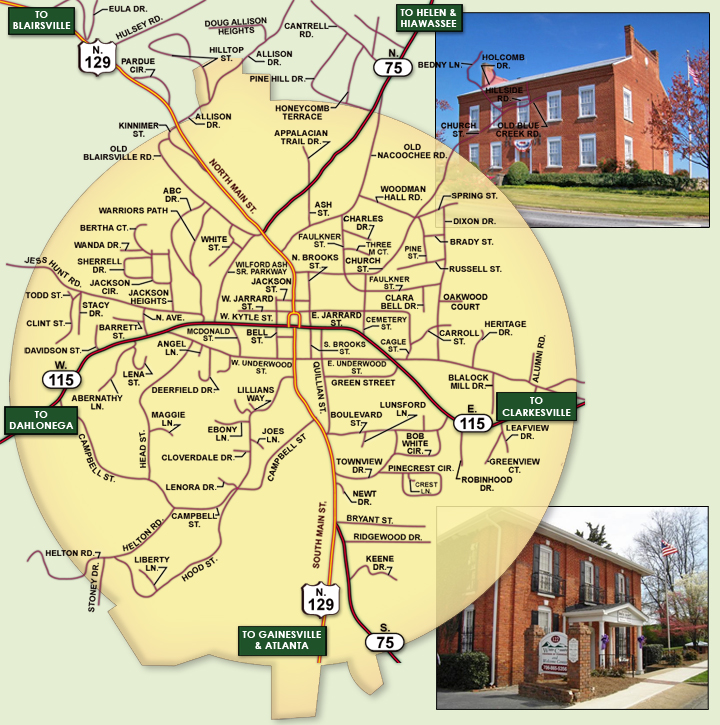 Cleveland, the county seat of White County, has a mountain charm and beauty unique to north Georgia. Proudly called the gateway to Smokey mountains because of it's charm and beauty. Many have traveled through Cleveland on their way to the beauty of north Georgia.
Cleveland is, also, the largest city in White County and has some unique downtown sites and shops to see and shop. With population a population of 3,410 in the 2010 census it is small town but has many fun outdoor adventures.
Cleveland is known for its Babyland General Hospital where the Cabbage Patch Kids dolls, the conception of native Xavier Roberts, are created daily. Other people flock to see are Unicoi State Park, the Smithgall Woods-Dukes Creek Conservation Area, and the Chattahoochee National Forest, including Anna Ruby Falls. North Georgia Zoo , Serenity Cellers, Wild Wood Outfitters, Gold n Gem Grubbin', Loganberry Heritage Farm and Rosehips Folk Art Gallery.
Travelers also travel through the town on their way to other destinations just a few miles away, such as the Bavarian-themed town of Helen, Blairsville, Lake Burton, Brasstown Bald, Lake Chatuge and Hiawassee.
Dating back to early 1800's, the city of Cleveland, Georgia started as a little rural spot in western Habersham County. Cleveland was authoritatively settled in 1857 as Mount Yonah. It was not a town August 18, 1870.
Through the first a large share of the twentieth century, White County remained a primarily agrarian group of different cultivating bases. Cows, hogs and chickens, and also vegetables, were sold in Cleveland markets and all around the area. As the city of Cleveland kept on growing in populace, more business ventures moved into the zone. All the current conveniences were accessible from Cleveland stores and excellent Americana got synonymous with the nearby lifestyle.