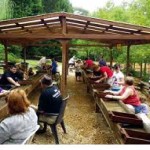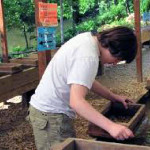 Gold n Gem Grubb is a great place to take your family to pan for gold and screen for gemstones. Using their great sluices that catch the cold and gemstone you can experience the art of gold panning just like the old timers did it!
While you sit comfortably under shade trees with a view of ther 7 acre lake. There highly trained grubbers will teach you all you will need to know so you can become a pro yourself.
You will be amazed as you sift for your new treasures by using their "Gems of the World" concept.
Your success is guaranteed at Gold n Gem Grubbin.
If you ever wanted to pan  for your own gold and gemstones, right where the old timers fought off the Cherokee Indians in the early 1800's then this is the place to do it.
Come enjoy the fascinating history of our country's first major GOLD RUSH and show yourself or kids a blast from our great past.
Did you know that more gold was mined in North Georgia than was mined during the subsequent California Gold Rush of 1849?
This is true family fun and you can also make some extra cash too.
To tell you more about what to expect, here are the links for more information about Gold N Gem Grubbin  including Trip Advisor, Yelp Google. You can also comment below about your experiences here at Gold n Gem Grubbin as well.