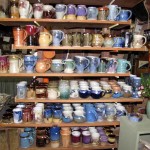 Mark of the Potter has been making pottery and stoneware for almost 50 years.
There Pottery is some of the best around and there shop right on the river is a beauty you should come experience. The Drive is scenic as one can find as well.
All of there pottery is food safe using only lead-free glazes and clays.  Microwave safe and most are oven safe too.  They can be washed in the dishwasher or as some customers prefer, hand washed. It takes time for there pottery artists to make their great stoneware. Matt Henderson, Ester Lipscomb, Mary Towers Weese and Kyle Jones all have a great deal of experience each has their own distinct style.
For variety and to support the local clay community, Mark of the Potter  buys from
another 25-30 artists from around the southeastern U.S. region and some from out of the region. So you have much to choose from if you are shopping for pottery.
Come see why thousand and thousand of people have ventured to the north Georgia mountains to see the Mark of the Potter.
9982 Hwy 197 North
Clarkesville, GA 30523
(706) 947-3440
Open 7 days a week!
Hours 10-5 pm Jan-Mar
10-6 pm Apr-Dec