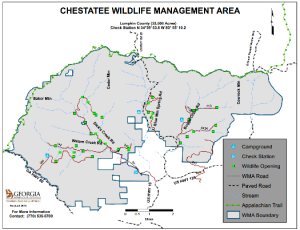 The Chestatee WMA is a whopping 25,000 acre section of land set aside as a Wildlife Management Area inside the Chattahoochee National Forest and stretching across Lumpkin County in the northeastern part of Georgia.  White County residents and leaf-looking tourists enjoy this diamond in the rough because it's not too far of a drive and offers a wide range of outdoor opportunities, including hunting, fishing, camping, hiking and good 'ole countryside sight-seeing.  The abundant mountains, streams and wildlife found on Chestatee are what sets it apart from other WMAs across the State of Georgia.
Enjoying the outdoors for residents of White County or those traveling through to visit Helen or the Appalachian mountains is closer than many realize.  Chestatee WMA offers four primitive campgrounds across the WMA.  Generally, the more maintained campgrounds on Chestatee require some form of registration on site; however, in many cases, you simply find a good spot that is open to camping and throw up a tent.  Don't worry, there are posted signs informing campers of areas that are restricted.  When visiting or camping at Chestatee, it is also important to remember that driving vehicles on natural life substance plantings is not allowed, so you'll want to stick strictly to the road.  Chestatee WMA enforces a strict rule on time allotment for camping; for example, an established campsite is limited to 14 consecutive days, in other words, two weeks, and this campsite cannot be reestablished by the same person until a period of seven days passes.  You can, however, move down the road at least a mile from the original campsite to set up camp again if you believe it will be less than seven days in between.  Campers should keep in mind that they are responsible for their own trash and should always return the campsite to its previous standing before heading out.  As with any campground, Chestatee WMA expects visitors and campers to act in a gentlemanly and neighborly fashion.  I'm sure this requires no further explanation.
Many of the hiking trails and trail systems found on the Chestatee Wildlife Management Area are not maintained and are limited to foot paths and old roadbeds.  If you find yourself ready to hike the mountains of northeast Georgia, be sure you take a map and a compass, because the 25,000 acres found in Chestatee, as beautiful as they may be, are not forgiving to hikers underestimating its power.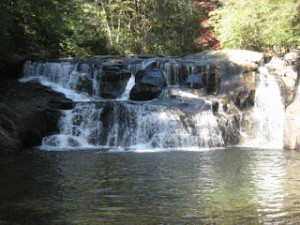 Ah, hunting and fishing!  Perhaps the most sought after information for outdoorsmen in White and surrounding counties, is the Chestatee WMA hunting and fishing rules and regulations.  While this WMA offers deer, bear, small game and furbearer hunting and amazing trout fishing, the rules and regulations continue to be updated yearly through the Georgia Department of Natural Resources.  For precise and updated information on hunting and fishing seasons for the Chestatee WMA, we recommend you contact the Georgia DNR for further information.
If you haven't yet discovered the Chestatee WMA, it's time!  Driving from Cleveland, Georgia, you'll take US 129 North for about 10.5 miles until you reach Turner's Corner.  Here, you'll turn left onto US 19 and proceed for another 0.5 miles before turning right onto Dick's Creed Road.  If you're hunting, searching for a map or looking for a game warden, you'll find the Check Station on the left after about one mile.  Happy hunting, fishing, camping, hiking or sight-seeing!