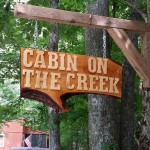 Just six miles from downtown Alpine Helen, Cabin on the Creek has four select cabin lodges right on the water's edge of a get & discharge trout stream. Whether it be a special night or a family travel, these Helen Georgia Cabin Rentals are private, sentimental and all that you are searching for. Why stay somewhere else when you can stay at Cabin On The Creek.
Peace and quiet in the mountain near many fun things to do. Cabin on the Creek is the small family owned cabins you are looking for in the north Georgia mountains.
[vc_blockquote type="type1″ border_color="#1e73be" border_size="10″]
"Wonderful place to stay" — Trip Advisor
[/vc_blockquote]
To tell you more about what to expect, here are the links for more information about Cabins on the Creek including Trip Advisor and Google. You can also comment below about your experiences here at Cabins on the Creek as well.