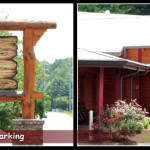 Hawg Wild BBQ and Catfish house in Clarkesville provides its customers with an exciting atmosphere to share some great food together with unbelievable friendly and courteous service.
Because nothing brings people together like good Barbecue and a good time Hawg Wild has you covered with Carolina BBQ, Lexington BBQ, BBQ Ribs, BBQ Brisket, BBQ Chicken and of course BBQ Pork. These delicious barbecue specialties are what set Hawg wild apart as well as their wide variety of delectable sauces. You know you want some meat just off the fire. So come and taste Hawg Wild's today and you will taste and see why barbecue is what fires are made to cook. They also have their sweet staple of golden fried catfish that is mild and tasty served with hushpuppies for those that don't like barbecue. At Hawg Wild you will be eating your napkin and loving it too because their barbecue is just that good, you will come back for more.
Everyone's meal starts off with unbelievable sweet Hushpuppies and other great menu items include Chicken Wings, Brunswick stew, Smoked Turkey, Smoked Chicken Fresh Salads and Fresh Sides.
You can order from Specialty Cocktail Menu as well Craft Beer, 10 Draft Beers and Fine wines.
Homemade Desserts, Ice Cream and fresh fudge from the Fudge shop are there to help end your meal the right way.
You can sit in fireside Dining outside patio seating or Inside dining. A full and is available and large screen TV's for the sports watchers. Live Music on weekends is all provided.
Ample parking is waiting for you at their downtown Location as well. There is also a gift shop where you can buy there sauces, T-shirts and other gifts.
Hawg wild BBQ has Monday Wing Night, Tuesday Catfish Night, Wednesday Rib Night, Thursday Unlimited (All you can eat) Crab Legs and a great Sunday Brunch.
[vc_blockquote type="type1″ border_color="#2145d3″ border_size="25″]
"Wonderful hushpuppies, generous portions and great tasting food." From Google
[/vc_blockquote]
To tell you more about what to expect, here are the links for more information about  Hawg Wild BBQ Clarkesville  including Trip Advisor, Urban Spoon  Yelp Google and Facebook. You can also comment below about your experiences here at Hawg Wild BBQ Clarkesville as well.