UGA – UK Recap
2014/11/12 3:36 PM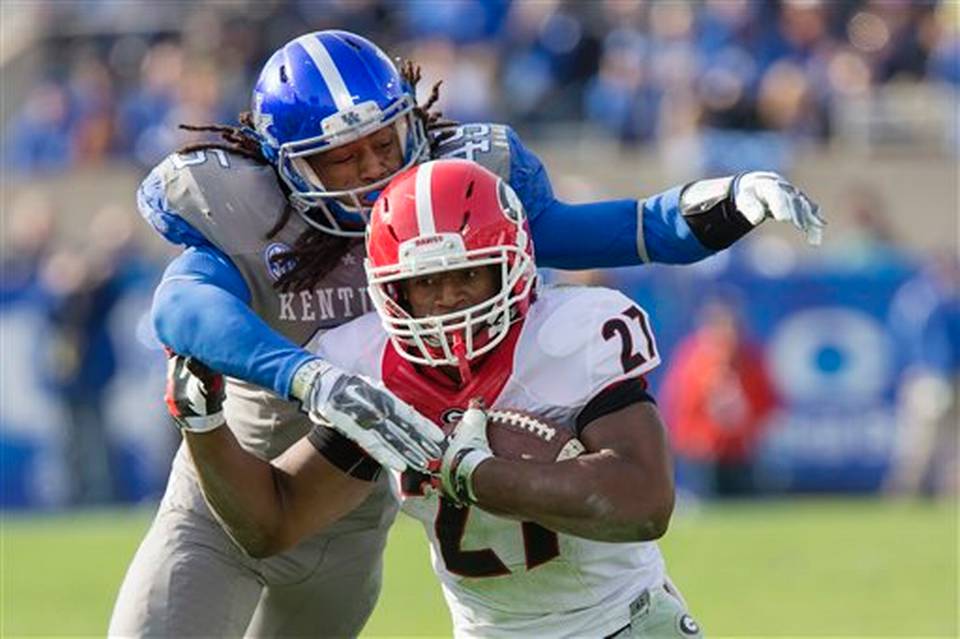 Emotions were high for this annual showdown, but the dawgs lowered the crowd with an opening kickoff return for a TD and then jumped out to a 21 point lead before the wildcats knew what was going on. UK is now a 5-5 and losers of 4 straight after starting the year 5-1, and needs another win to go bowling. UK has to go on the road to Knoxville to play Tennessee in Neyland, Stadium this Saturday needing a win to get that 6th win. UGA is now 7-2 after beating Kentucky 63-31 on Saturday, and will play back between the hedges the first time in 42 days when they host the South's Oldest Rivalry with Auburn coming to town.
3 bulldogs received weekly SEC honors for their performance against Kentucky, and all 2 are true freshmen. Georgia freshmen Isaiah McKenzie, Nick Chubb and Lorenzo Carter have all earned Southeastern Conference weekly honors. Chubb earned the SEC Freshman Player of the Week award for the third time. McKenzie has been named the SEC Special Teams Player of the Week for the first time in his career, and Carter won his first SEC Defensive Lineman of the Week. McKenzie, a receiver/return specialist from Florida nick-named the human joystick, made history by becoming only the 12th player in NCAA FBS history to have a punt return and a kickoff return for touchdowns in the same game. He went 90 yards on the opening kickoff to give the Bulldogs an early 7-0 edge. McKenzie is the first Georgia player to start a game with a kickoff return for a touchdown since 1988 when Tim Worley raced 93 yards in 12 seconds against Ole Miss.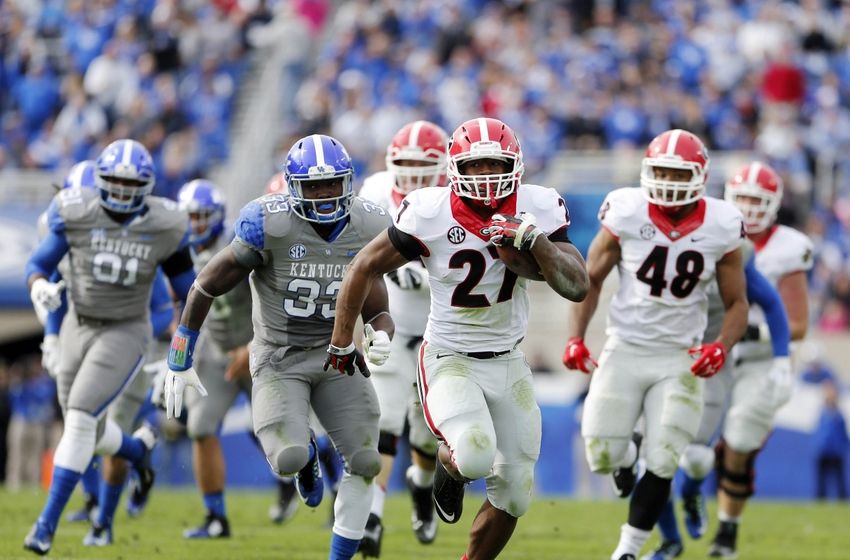 The Bulldogs had a season-best 559 total yards and improved to 7-2 overall and 5-2 in the SEC, while the Wildcats fell to 5-5 and 2-5. Georgia improved to 54-12-2 against Kentucky, including five straight wins and 16 of the past 18. Playing just three quarters, Mason went 13-of-16 for 174 yards and the career-best four touchdown passes. Redshirt Freshman Brice Ramsey came in and played well in the 4th quarter, going 5for5 for 80 yards and a TD. For the day, UGA was a perfect 8 for 8 on 3rd down. The 63 points in an SEC game was the most since beating Florida 75-0 in 1942 in Jacksonville. It was the most points scored in an SEC game under Mark Richt, edging the 62-17 win over Kentucky in Lexington in 2004.
UGA got one turnover, and it led to a TD. Kentucky forced one turnover, and it led to a field goal. For the year, Georgia is +13 in turnover margin, which leads the SEC and ranks second nationally. "Very pleased with what happened today. I'm proud of our players. I thought they did a really good job. Starting the game, there was a lot of energy in going up 21-0. I thought our defense made a good stop after the fumble on the kickoff return. We forced a field goal instead of a touchdown. I thought that was a big play and drive for our defense in the first half. Obviously, to start the game with a kickoff return for a touchdown was huge." Coach Mark Richt.