Recap of Georgia- Vandy Game
A recap of Georgia Vandy game
2014/10/07 2:19 PM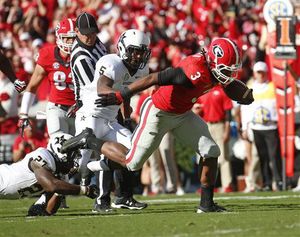 The University of Georgia should be renamed this year as the University of Gurley. Their Heisman Hopeful not only carried the team on his back by rushing 25 times for 163 yards and 2 touchdowns, 2 receptions for 24 yards, and he completed the longest pass of the season for 50 yards. If Gurley stays healthy, he will help the Dawgs win a lot of games and continue the rise on the Georgia books. He moved into 3rd all-time for rushing at Georgia, and is over 3000 yards for his career. Only Garrison Hearst and Herschel Walker are ahead of him all time, and now Herschel thinks that he is the best player in America as well as his coach, Mark Richt. Gurley scored the first 2 touchdowns, and the Dawgs never looked back at Vandy as the won this redemption game from last year 44-17.
Mike Bobo and Mark Richt also had redshirt freshman, Brice Ramsey, come in for a series at QB going 2 of 4 for 31 yards and driving the Dawgs for a score. Hutson Mason did enough to win this game for UGA's homecoming, going 11 of 17 for 121 yards and 2 TDs with 1 interception. Chris Conley only had 2 receptions, but both of them were pay dirt and scores of 44 yards and 5 yards. Malcolm Mitchell was welcomed back, and had one reception for 11 yards. Mitchell and 7 other players had receptions, and true freshman Jeb Blazevich led the team with 3 receptions for 86 yards (and the longest reception of the year coming from Gurley). The Dawgs had 445 offensive yards, but only had the ball 24:26 of the game.
Jeremy Pruitt's defense gave up 320 yards to the SEC's worst offense, but David Bowman returned an interception 63 yards and a score wearing Rico Johnson's jersey to honor the player who received a medical scholarship due to a diagnosed spinal condition earlier in the week. The Dawgs also dismissed Sheldon Dawson last week, and the secondary took another hit with Shaq Jones being dismissed after the game. The Merritt Island, FL signee was arrested Saturday night and he did not dress for the game against Vandy. Let's hope that Pruitt can find some more depth for the defense as he discovered a lawn maintenance student, Eddie Smith. This story was reported on Facebook by 1980 Dawgs. Here it goes:
Jeremy Pruitt has asked a member of the Bulldog's field maintenance crew to join the defensive backfield. On Tuesday, Eddie Smith, who's been part of Georgia's field maintenance crew for almost two years, was repairing a section of the practice field near where the defensive backs were practicing some long pass defender drills.
When a DB tripped up near where Smith was working, he started running along with the receiver, as if he was a defensive back. The receiver kind of laughed and put it into high gear. Eddie Smith stayed right with him in a pair of work boots. One of the grad assistants, who had been playing quarterback for the drill, let the ball fly. Eddie made an incredible leap and play on the ball and made an interception. Everyone went crazy.
Coach Pruitt, who had been watching the drill couldn't believe what he just saw. He went and talked to Eddie. He found out Eddie was a standout high school defensive back in Louisiana 4 years ago, but had to go to work to earn some money for his family during his senior year. He gave up his dreams of playing college football. He moved to Athens to live with a cousin almost 2 years ago. He enrolled in UGA and has been working on the field maintenance crew.
Eddie told coach Pruitt that the field maintenance crew played pick-up football everyday after their workday and the Georgia practices had finished. He said he had also been using the Bulldog's weight room and had become friends with some of the assistant coaches in strength and conditioning. He would go there each day after playing pick-up football.
He made such an impression on Coach Pruitt, that he asked Eddie if he'd be interested in trying out for the team. They put him through some tests the next day. Eddie ran a 4.38 40 yard dash in a pair of old sneakers and was able to bench press 225 a respectable 15 times. Pruitt let him join in on some drills and said he's a natural defensive back and has kept himself in very good fitness condition. Pruitt said it's amazing, but he would consider him almost game ready fitness wise. "He just has to learn our defensive schemes". said Pruitt. He asked Eddie to join the team.
The Dawgs are now tied with Florida and Kentucky at 2-1 for 2ndplace in the SEC East, as they travel to Columbia, Missouri to face the 1-0 and first place Missouri Tigers at noon this Saturday. Let's hope the Dawgs can play some Grown Man Football this weekend, and redeem the loss from last year between the hedges to the SEC East defending champs.