Georgia vs. Missouri Recap
Georgia vs. Missouri Recap
2014/10/16 2:22 PM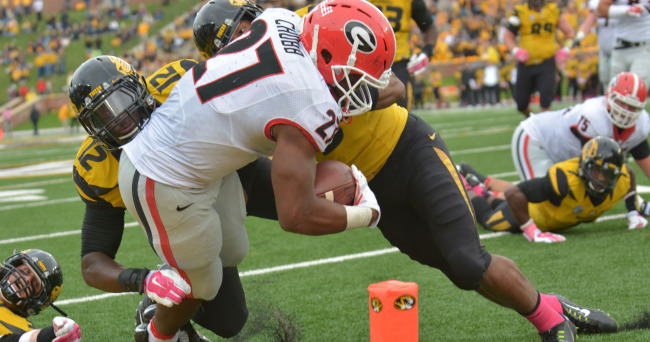 Georgia vs. Missouri Recap
Mark Richt performed one of the best coaching performances of his career, and has his team positioned well to play in Atlanta for the SEC Championship. Nick Chubb set a UGA record with 38 rushes (something NO other UGA running back has done) for 143 yards. Brandon Douglas had a play of the week touchdown to secure the shutout against Missouri. Maty Mauk had one of his worst games, turning the ball over 5 times and fighting with a UGA player in frustration. This was a complete game by UGA, though a bad late hit call on the first play made it look like the officiating crew from their other Columbia trip (UGA's only loss of the year to South Carolina) was going to make this a long day. The defense held the Tigers to a punt on the first series (3 and out after the penalty), and Isiah McKenzie fumbled while returning a punt though the Dawgs did not turn the ball over.
Jeremy Pruitt's defense held Missouri to 147 yards of offense for the day, and it was the first time that UGA shutout a ranked opponent on the road since 1982 when they beat Florida 44-0. This was the 6th defensive line-up of the season, and it looks like it is the one that played the best. The coaches made the team as focused as they have been all year, and they showed that one player does not make a team. The best player in college football watched the game at his apartment in Athens, but FaceTimed the team via Amarlo Herrera's phone before they got off the bus in Missouri. This may have been the spark the team needed for this season, and they played their best game on Saturday.
Hutson Mason played his best game of the year going 22 for 28 for 156 yard with 1 TD in the air, and had a rushing TD for 11 yards also. Michael Bennett led the Dawgs in reception yards, hauling in 5 catches for 53 yards and a 9 yard TD pass. Malcolm Mitchell returned for his first full game since 2012, and led the team in number of receptions with 6 for 27 yards. In all, 8 different players caught passes to help Mason look like the 2 half QB from the Georgia Tech game last year. The team as a whole rushed for 210 yards on 58 attempts, and controlled the clock for 42:23 minutes of the game. Mike Bobo did not change his game plan with Gurley being out, and Chubb and Douglas performed excellently in his absence.
Georgia's defense gave Maty Mauk and the entire Missouri offense fits, and held the Tigers to a shutout at home. It was the first time they were held scoreless since 2002, and the Tigers were 0-7 on 3rd down conversions. The Tigers probably wish they could have suited up Aaron Murray (the former Dawg and SEC all-time leader in offense recently engaged and in town to watch some Grown Man Football, the KC Chiefs had a bye week) to see if he could have moved to ball against Pruitt's defense. Mauk threw 4 interceptions and fumbled the ball once. This is increasing the turnover ratio for the Dawgs, and that is what they will need to make it to Atlanta.
Special teams also did an excellent job on Saturday. Marshall Morgan was perfect going 2 for 2 with field goals at the beginning of the game, and perfect on extra points (4 for 4). His kick-offs were also covered well, but the Tigers gained 75 yards on 5 returns. Isiah McKenzie did well on punt returns going 5 for 43 yards. Collin Barber and Adam Erickson performed average punts, combined 5 for 173 yards. Missouri only returned one punt, and that was for 9 yards. All in all, the Dawgs put a true team effort together at the right time. It is their first of many games away from home, as they will not return between the hedges until November 15th (42 days between games) against Auburn. Tough road trips to neutral sites (home game of Arkansas in Little Rock) before a needed break before traveling to their annual showdown with Florida in Jacksonville. Then they head to Lexington to play the surging Kentucky Wildcats on November 8th.