Fly Fishing in White County : The First in a Series of Trout Fishing Basics
Heading to White County, Georgia for a little fly-fishing relaxation or in hot pursuit of trophy trout found in the cold streams of North Georgia? You'll want to follow our series of trout fishing basics covered in "The 'Fly'swatter' Corner", as local fishing guide and fly-fishing expert, John Rice, offers expert insight only a native fisherman and experienced guide can bring.
2014/11/24 12:13 AM
Fly fishing in White County is a preferred pastime for the sportsmen and anglers who live here in Cleveland and Helen, Georgia, as well as those traveling through the beautiful North Georgia Mountains seeking adventure.  WhiteCounty.Com is pleased to offer a series of posts on trout fishing basics from "The 'Fly'swatter' Corner" written by Cleveland's local trout fishing guide and fly-fishing expert.  In this fly fishing series, John will cover the basics of fly fishing and possibly even give up some closely guarded secrets (we hope?) or maybe we'll get lucky enough to learn of some awesome fishing holes.  Stay tuned each month as John rolls out a new post in the series: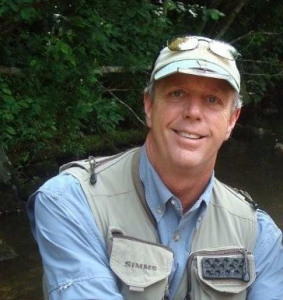 Hello, my name is John Rice.
I have been a fly fishing guide in North Georgia for over a decade, so I am not as seasoned as some,  but can still remember how I struggled my first few times on some of the trout streams in our area, especially the catch and release streams with big, smart trout.
Over the next eight months, I am going to try and describe, explain, and simplify some basic things for those who are new to the art of fly fishing.  And although I have been told that some of my metaphors and analogies are a bit strange, they do seem to get my anglers to connect with the information I am trying to share with them.
I remember that when I first started fly fishing, it seemed to even have its own language, and it kinda' does.  As we move through these next few months, we will cover seven basic  points that I believe will serve you well. As we go through these points, I will try to give a simple explanation of some of the terminology that is commonly used in our world of fly fishing.
We will cover –  Observation, Fly Selection, Approach, Lines (fly line, leaders, tippets) , Knots, Rigging Tactics and Presentation. The last article will be a summary of how all of these topics relate to each other and how to use them as tools for a good day on a trout stream.    People write entire books on just one or two of these subjects, but I am going to go with simple and logical.
Hope you stay with me through this  'Basics'  series.