Auburn at Georgia Recap
2014/11/20 4:43 PM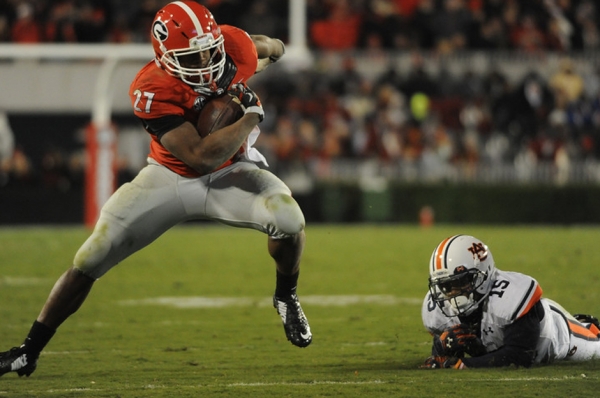 Nick Marshall tweeted earlier in the year a negative response about Todd Gurley's suspension, and the Dawgs ruined Marshall's return to Athens. Marshall probably did not feel welcomed back, and his tweet was nothing compared to the return of Todd Gurley's season ending ACL injury in the 4th quarter when the Dawgs had a comfortable lead. The tandem of Chubb and Gurley ran all over Auburn in similar fashion that UF did to the Dawgs in Jacksonville. Auburn scored a TD early to take a 7-0 lead, then the Dawgs answered and the defense made the stops when it needed to. UGA now has to wait for Missouri (at Tennessee, and at home against Arkansas) to stumble if they want a chance to return to Atlanta to meet the mighty SEC West. UF lost in OT to Spurrier and his USC team that caused two 4th quarter special team miscues (blocked FG and punt) as USC scored in the final seconds to tie the game at 17, then scored a td to UF's field goal. This loss ended the Gators chance to win the East, and also cost Will Muschamp his job.
The tone of the game was set on the opening kickoff when Gurley took the ball 105 yards for a TD, but was called back on a phantom hold by Ryne Rankin. UGA then had to punt on the opening series, but then got the running game going with the 1-2 punch of Gurley and Chubb. Gurley finished the game, and probably his career at UGA with 138 rushing yards and 4 receiving yards, and Chubb led the team in rushing yards (144), receiving yards (48), and had 2 touchdowns. Hutson Mason led the team to victory after going 10-19 for 123 yards and a TD to Malcolm Mitchell to tie the game at 7 all in the first quarter. UGA then scored the next 27 points to tie the Deep South's oldest rivalry record at 55-55-8.
Jeremy Pruitt learned a lot in the National Championship game last year, and dominated Auburn after the first drive. His Dawgs were swarming and playing their hearts out. 2 weeks after giving up more than 400 yards rushing in an upset loss to Florida to save Will Muschamp's job, the Bulldogs limited Marshall and Auburn's fast-paced offense to its lowest-scoring performance in Gus Malzahn's two years as coach. Marshall Morgan also was perfect for the night making all his extra points and 2 field goals. UGA now has 2 home games against Charleston Southern, and ends the regular season again against in-state rival, Georgie Tech who also has 2 losses and beat Clemson Saturday 28-6. Auburn hosts Samford next week before ending the year in the Iron Bowl in Tuscaloosa against Alabama who ended Mississippi State's perfect record Saturday. Now there are only 2 undefeated teams left with FSU and Marshall.